Brand experience in new dimensions
Quintet24 SalesApp – view – select – scan and order
Quintet24 as an app in the Playstore and AppStore.
Brand Experience & Brand Visibility – New Dimensions
The Quintet24 Sales App from MobiMedia helps you work efficiently: Look forward to an intuitive order process, seamless integration and comprehensible data.
Suggested orders for trend sellers directly to your mobile phone every week:
with the smart Quintet24 App from MobiMedia, retailers can buy at wholesale conditions anytime, anywhere. Easily shop at the Quintet24 marketplace via the Quintet24 app, view your wholesale orders and a whole lot more information, and discover innumerable new brands your customers will love.
Of course, you can also use the app in the showroom; the optimized view for mobile phones and tablets makes this possible.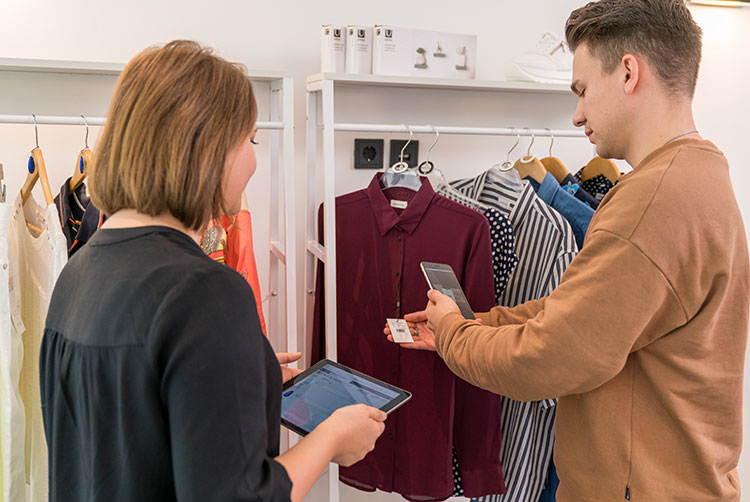 Ordering made easy:
Quickly find items, place orders and check order history. Sell faster with order templates and digital sign-in. Let your customers scan their favourite items to automatically add them to their order. You always have up-to-date access wherever you are. Managing and placing orders for multiple customers? Easy! Access real-time stock, the latest product information and back-office data online. There are thus more services and advice for your customers!
It's so simple:
You can enter your order via the app and then transmit it directly to the respective brand or to your merchandise management system. Of course, you can also work in the app and on your computer/notebook at the same time. We want to offer genuine support for your work!
View, select, scan and order: The whole process is always quick and secure, clear and transparent – which means more time and quality advice for your customers!
Thanks to a visual overview with details such as photos or videos of your products as well as smart analysis functions with various filters, you always have an overview of your orders and budgets
The Quintet24 app – is the smart B2B app for the retail trade, which you can use to view the stock levels of your brands live and reorder missing items with just a few clicks.
Reorder individual articles? That's always possible! But the Quintet24 app can do even more: SmartScan makes you a winner at the POS. With the Quintet24 App you can reorder single or multiple sets or looks when out of stock.
Expand your range to include your suppliers' stock and take advantage of the extended shop counter!
Questions? Then please get in touch using the contact form on our website.